Liberty Tabletop Profile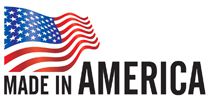 Sherrill Manufacturing, known for Liberty Tabletop products, has an admirable and increasingly unique claim to fame: it is the only remaining flatware manufacturer in the U.S.
Even the quality stainless steel it uses is made right here in America. Sherrill tests for lead and other toxic trace elements. There are no shortcuts in the making of safe, durable products. Not only that, but high-grade stainless steel retains its appealing luster and resists staining for generations.
Sherrill Manufacturing has been at this for more than 100 years and is frequently lauded by the media. The New York Times, ABC, and NBC are just a few outlets that have featured the company. Since other American industries are disappearing in droves — according to The Times, there's only one whistle maker, one barber pole manufacturer and a handful of sneaker factories left — Sherrill's longevity is impressive.