Fortessa Lucca Faceted Flatware: Perfect for a Summer Dinner Party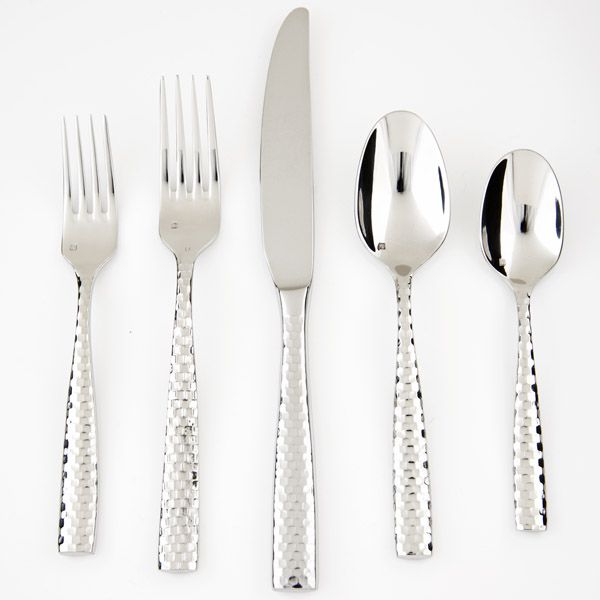 Arranging your perfect summer dinner party can be quite the task, especially when it comes to setting the table. Fortunately, Fortessa has a beautiful, elegant solution that will help take care of your worries– at least those about your flatware.
About the set
The Fortessa Lucca Faceted flatware set will fit right into your dinner party, and is perfect for extravagant barbecues. Silverware is more than just another pretty spoon, however, and this particular set is up for any mealtime task.
It includes standard table settings with services for up to 12, and contains many matching pieces that will create consistency in your dinner. Serving forks and spoons measure 9″ each, the perfect size to dish out potato salad or watermelon. Use the fish fork and knife to enjoy fresh seafood, and swirl the iced tea spoon in a refreshing summer drink.
Minimalistic chopsticks round out this collection, making an unusual addition to an otherwise standard set. These smooth, 9″ utensils are perfect for fresh sushi, rice, and well-seasoned meats. The chopsticks well complement the five-piece place setting (which includes the salad/ dessert fork, table fork, table knife, oval soup/dessert spoon, and tea/coffee spoon).
About the design
The Lucca Faceted flatware set was designed to be both fashionable and functional. Each piece features a hammered, honeycomb handle that catches the setting sunlight. Besides this eye-catching effect, the hammered look also helps to mask fingerprints. Your silverware will continue to sparkle course after course, making it perfect for dressing up your table even after the corn-on-the-cob gets messy.
Hosting a dinner party doesn't stop at the meal itself, however, and cleanup can certainly be the least enjoyable part of the whole endeavor. Another great feature of the Lucca Faceted flatware set is that it's dishwasher safe, which will make a world of difference for your summer dinner plans. Spend less time in the kitchen cleaning up and more time enjoying yourself with your guests.
This flatware line compromises neither style nor quality for the added convenience. Made of high quality 18/10 stainless steel, these pieces have the highest grade of protection against corrosion. They are also a heavier weight, allowing the pieces to sit firmly in the hand throughout your dinner. It will blend seamlessly with both formal and informal settings; it's playful enough to match with casual fare, but modern enough to make a bold statement during a more black tie meal.
About Fortessa
The casual classiness of the Lucca Faceted set is characteristic of its manufacturer, Fortessa. This company is comparatively new to the flatware scene, but has grown to become a leader in elegant, beautiful silver. Brothers Eric and Scott Hamberger grew their company from the ground up, approaching restaurants individually to test Fortessa's fresh, modern flatware.
Through word-of-mouth, Fortessa eventually expanded into homes, and has maintained their reputation for quality, comfort, and a bold aesthetic. The Lucca Faceted flatware set is Fortessa's rule, not the exception: it is beautiful, functional silverware that can rescue the messiest summer party and dress up the most formal banquet.