The Last Of The American Flatware
Liberty Tabletop Profile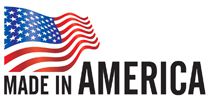 Sherrill Manufacturing, known for Liberty Tabletop products, has an admirable and increasingly unique claim to fame: it is the only remaining flatware manufacturer in the U.S.
Even the quality stainless steel it uses is made right here in America. Sherrill tests for lead and other toxic trace elements. There are no shortcuts in the making of safe, durable products. Not only that, but high-grade stainless steel retains its appealing luster and resists staining for generations.
Sherrill Manufacturing has been at this for more than 100 years and is frequently lauded by the media. The New York Times, ABC, and NBC are just a few outlets that have featured the company. Since other American industries are disappearing in droves — according to The Times, there's only one whistle maker, one barber pole manufacturer and a handful of sneaker factories left — Sherrill's longevity is impressive.
New Beginnings
There were some close calls. Sherrill was initially an exclusive manufacturer for Oneida. Like many companies, Oneida found it impossible to compete with brands that were using inferior materials and outsourcing labor to keep costs down. It went bankrupt in 2006 before merging with other brands. Meanwhile, Sherrill had to come up with solutions.
Production shut down for two years as the company reorganized. Before it did, however, the forward-thinking owners used all the steel they had left to create their own patterns. Those designs became the Liberty Tabletop collection. They built a website that generated $23,000 in sales in the first year. By 2015, sales were close to $1 million. The customer base expanded largely through word of mouth. The U.S. military, which orders Liberty Tabletop utensils for bases around the globe, has helped sustain Sherrill through the years.
Even in tough times, Sherrill won't compromise. They're looking for customers who don't mind paying a little more for domestically made goods. Sherrill's steel comes from Ohio. Polishing compounds hail from Detroit and Pittsburgh. A family-run paper company in Earlville, New York manufactures all of Sherrill's boxes. The paper outfit has been in business since 1926.
Liberty Tabletop Patterns
We carry a number of Liberty Tabletop designs for a wide range of tastes. Whether you're leaning toward something sleek or ornate, you have plenty of choices.
You'll notice that many of the pattern names reflect the American history that the company works so hard to honor:
Betsy Ross – This has a simple, unadorned teardrop shape and a mirror-finished handle and bowl. The excellent heft and
balance were created with users' comfort in mind.
Kensington – The graceful scroll design and slightly larger sizing make these pieces distinctive.
Martha Washington – The fiddleback shape and understated floral detail are charming. Martha Washington is an updated version of the silverware that the first lady might have set her table with at Mount Vernon.
Modern America – The Modern America hollow-handled knives are designed for superior cutting performance and durability. The plain design, with slightly rounded edges and a highly polished finish, makes the pattern suitable for any decor.
Pearls – A rounded handle and delicate beading make Pearls a perennial favorite.
Prestige – The subtle scrollwork and feathering on the squared handle lend timeless elegance. Prestige can be dressed up or down according to the occasion.
Satin Richmond – The silhouette is classic colonial. Satin Richmond is destined to become a treasured family heirloom.
---
Dedication to Social Responsibility
Liberty Tabletop not only does its part to grow the U.S. economy (while simultaneously creating stunning silver tributes to American culture), but it also helps people find meaningful careers. The company is known for valuing its employees and treating them exceptionally well.
The owners are most passionate about preserving a craft practiced by illustrious figures in American history. Separatist Edward Winslow, who arrived on the Mayflower in 1620, and American Revolutionary War hero Paul Revere were among many talented silversmiths. Liberty Tabletop sticks to time-honored methods, and customers are overwhelmingly satisfied with the exceptional quality, durability, pleasing appearance and affordable price of their flatware.
Finally, by choosing Liberty Tabletop flatware, you'll be joining forces with the manufacturers in their fight against child labor, abuse of workers and unsafe workplaces.